Absolute Koi in association with Shintaro Koi Farm are pleased to announce we will be having a Shintaro Tategoi Grow and Show competition for the 2009 Season.
Shintaro is known by many koi keepers as "The maker of Dreams" arguably one of the best breeders in Japan.
Although the Shintaro lineage nowadays has a lot of unique features, the Matsunosuke roots remain clearly visible, these Tategoi Sanke are already 35 - 40 cm, from more than 1.5 million koi that are born at Shintaro Koi farm, more than 99 % are considered no good and eliminated. In the end only 4500 of the 1.5 million fry will pass the culling process. Only 150 of them should be regarded as Tategoi.
This is a real opportunity for the UK koi keeper to own such breathtaking Shintaro Tategoi Sanke!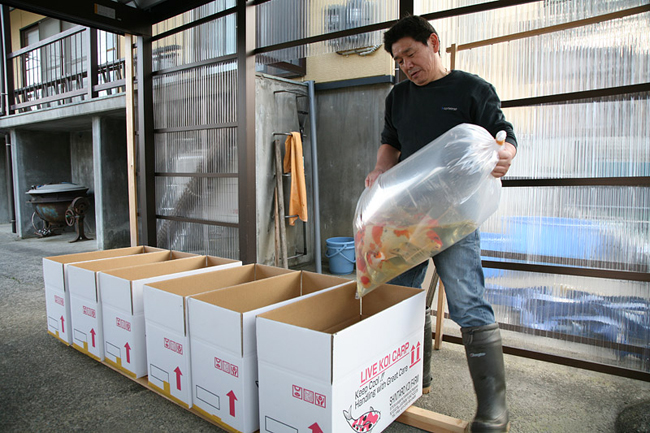 Our koi being packed ready for shipping courtesy of Mark Gardner. www.niigata-nishikigoi.com
Here are the details:

Absolute Koi have 30 Shintaro Tategoi Sanke Tosai bought whilst out in Japan early April 2009

The price for each will be only £395.00 and you can buy as many as you want. For each one that you buy your name will be put into a hat. All the names will be pulled randomly and you will pick from the selection in the order your name is pulled. Obviously, the more you buy the better chance you'll get of having a higher pick.
The date of the selection will be anounced soon, where a marquee, barbeque, raffle and many other koi will be on show along with reps from leading manufactures of koi products, a day not to be missed.

So who does the judging?

Well, we thought the best judge for this would be Shintaro Koi Farm. After a one year, a winner will be announced based on photos, the Judging will be done by Masaru Saito (Shintaro) who incidentally helped pick the 30 Tategoi Sanke for this competition, whilst out on our April Japan Buying trip, these koi are awesome! The Grand Champion will be based on a combination of things and not just whichever is the largest.

The prize for GC.

The lucky winner will enjoy a trip of a lifetime to Japan with Absolute Koi in the Autumn of 2010. This will include your flight and hotel, or for those who prefer a £1000 koi voucher.

There are three ways to pay; either on-line (preferred), by phone (all major Credit Cards are accepted), or by simply visiting Absolute Koi (cash or credit cards accepted). To pay online, simply complete the order process below by selecting the number of koi you have signed up for.

Should you prefer to pay by phone, please call us on 01909 476553 during business hours.

We at Absolute Koi, as well Shintaro Koi Farm hope that you find this Grow and Show contest both fun and educational!