The effectiveness of traditional Protein Skimmers or Foam Fractionators in fresh water is restricted by the lower density in fresh water and therefore the ability to form small enough bubbles with enough surface area to attract the organic waste.
Since the Clarity Protein Skimmer is based on an entirely different approach, the Clarity protein Skimmer does not have this limitation. This results in superb efficiency also in fresh water and opens up many exciting applications for the Clarity Protein Skimmer.

The Clarity Protein Skimmer Regulates the level of oxygen in water.

During the normal process of feeding fish and decomposing of organic matter, the level of oxygen in the water is altered. These environmental changes are not desirable for the fish and result in increased stress and unhealthy conditions. Clarity protein Skimmers mode of operation restores the balance of oxygen in the water as part of the process of making the foam.

The Clarity Protein Skimmer Breaks down ammonia and nitrite to nitrate before foaming.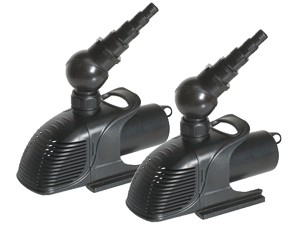 The Superfish PondEco 12000 pumps are designed to pump water containing solid material to a pond filter or a waterfall. The PondEco 12000 pumps cage is specially designed to prevent it clogging by providing the maximum surface area. PondEco 12000 pumps can also be used dry mounted inline just like the Aquamax range, They also have the same 1.5 inch threaded inlet and outlet.
When using a pond pump to power a filter system reliability is essential. That is why the PondEco 12000 pumps key features provide total reassurance.
Thermal Resettable Fuse
The PondEco 12000 pumps have a TRF (Thermal Resettable Fuse) this device automatically switches off the pump if it overheats to prevent motor damage. Once cooled, about 15 to 20 minutes the pump will switch itself back on.
Superfish PondEco 12000 pump Features
Pumps large quantities of pond water with low electricity consumption
Vortex impellar blade can handle solids upto 8mm
Pump outlet has a screw thread hosetail 25-38mm (1"- 1.5")
3 Year Manufacturer Backed Guarantee