More items in this range

AquaForte Smart Sieve
AquaForte introduces the new Smart Sieve, a breakthrough in production technology and price range!

The new innovative filter is a gravity fed Smart Sieve produced by means of a special technique of rotation moulding of the casing of the filter in one piece.

This gives the filter added strength and a clean look, as well as modern production means bringing the price down compared to traditional sieve filters.

The Smart Sieve can therefore sit at a very attractive price in the market. The Smart Sieve is completely made of polyethylene and fitted with a 300 micron stainless steel filter element.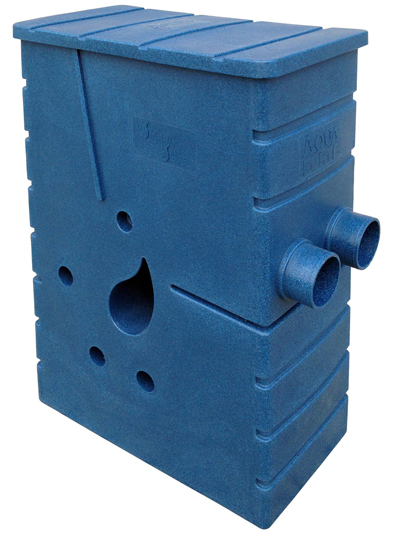 The Smart Sieve filter is supplied with a lid as standard and comes with 2 x 110 mm Dia inlets, meaning two drains or one drain and a skimmer can be mechanically filtered, lifting waste from the pond automatically.

AquaForte Smart Sieve Specifications:
Polyethylene manufactured gravity sieve filter.
Equipped with a 300 micron stainless steel filter element.
Pump capacity ± 25m ³ / h.
67 cm x 36 cm 101 cm
Inlet: 2 x 110mm.
Waste: 63mm.
2 inch Pump connection
Lid as standard
Color blue granite