Oase Pondovac Classic is available from Absolute Koi at a discounted price.
The Oase Pondovac Classic is a sludge vacuum cleaner, which can remove debris up to 10 mm in size including algae, string algae, sludge, dead vegetation etc. by way of the suction hose.
With it's 27 litre tank is made of impact resistant plastic and features a self emptying sludge draining system.
The sludge is drawn through an adjustable nozzle (2-10mm) into the container via a 4m connecting hose.
Once the container is full of sludge, the motor switches off automatically.
Oase Pondovac Classic pond Vacuum Cleaner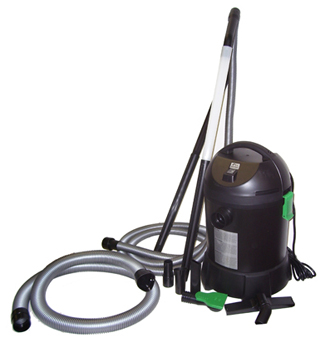 As soon as this happens a special valve at the end of the Oase Pondovac Classic 2m long discharge hose opens automatically allowing the sludge to drain out of the tank.
This takes approximately 25 seconds.
The Oase Pondovac Classic vacuum then starts to suck again.
The Oase Pondovac Classic features a 1400 watt high performance motor.
Not only this but it is supplied with a dust bag and can be used to vacuum the house.
For a natural, simple & fast way to remove debris & decaying organic matter from water gardens or fish ponds, the Oase Pondovac Classic is the perfect solution.
Available at the perfect price to get your summer maintenance season started