The HI-991404 combines 4 meters into one easy to use wall mounting continuous indicator.
Featuring a large, dual-level, back-lit LCD display the meter can display the temperature of your solution together with the choice of either conductivity, pH or total dissolved solids (TDS).
It also features a reading stability indicator and a hold feature to make it easier to write down a particular reading.
Calibration and temperature compensation is automatic, while the conductivity and TDS conversion factors and temperature coefficients are user adjustable for specific application requirements.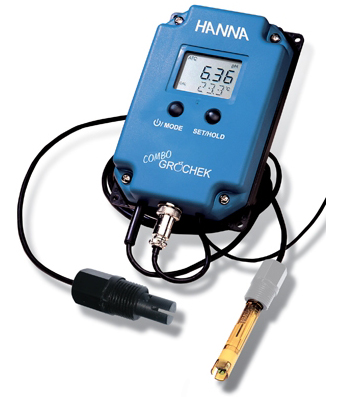 Supplied complete with a non-clog double junction pH electrode and a rugged conductivity/TDS sensor, 12volt power transformer and buffer solutions 4 and 7 together with conductivity calibration solution.
For the full prodcut specification please see the attached instruction manual.
The HI-991404 is supplied somplete with:
HI-1293D pH eletcrode
Fixed HI-7630 probe
pH and EC calibration solutions
12VDC adapter and instructions.
Product Specification Summary