Digital Water Flow Meters
These carefully engineered Digi-Flow meters include the very best features and provide outstanding performance. The Digi-flow Unit is a digital flow meter and will give you the actual water flow with a easy to read 6 digit LCD reading in Litres per minute (Lpm).
Those of us in the koi industry know how important it is to know the true flow rate of our koi ponds, the flow rate is just as important as the filter itself. The Digi-Flo meter, due to modern technology, advanced plastics and metals, solid-state circuitry gives you the flow accurately to within 1%.
Today's Digi-Flow meters use advanced solid-state circuitry that operates on common batteries eliminating the need for electrical connections. The technology has advanced to the point where batteries last for a minimum of one year. When the batteries are replaced, no harm is done to the factory settings.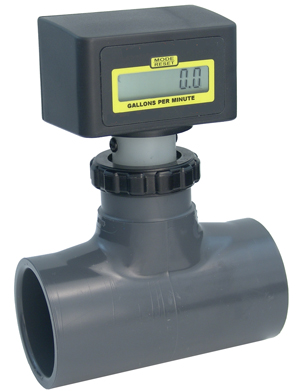 We have four different models available to suit different diameter return pipework and different flow range. Easy to install using standard PVC solvent weld glue. No added pressure drop to system.
.
Digi-Flow Features:
Easy to read 6 digit LCD, up to 4 decimal positions.
Tamper proof.
Battery operated (2 AAA batteries included).
Factory calibrated - nothing to program.
Weather resistant ABS enclosure.
Our line of flow meters that measure both gallons per minute (GPM) and liters per minute (LPM) are of the highest quality, and available to you at an affordable price! Very Accurate and easy to install.
Constructed of a durable machine acrylic body, corrosion & wear resistant float, and a permanent screen-printed scale. Simply drill the hole into the pipe, and install it with a gasket and 2 clamps. Also available in low-flow ranges. Our flow meters utilize a pitot tube pick up and a hard edged float design to provide a precision water flow reading. These flow meters feature a tough, one-piece machined acrylic meter body, 316 stainless steel corrosion resistant internal parts which makes them safe for saltwater applications.
Water Flow Meter Features:
Dual GPM/LPM scale printed on both sides of the meter.
Flow rates from 2 to 1900 GPM (8 to 7200 LPM).
Corrosion resistant 316SS or Teflon internal float materials.
One piece machined acrylic body.
Mounts to existing pipe. No unions or adapters required.
Mounting clamps and gasket included.
Water Flow Meter Specifications:
1.5 or 2 inch pipe size
Max. Psi (bar): 150 PSI (10.3 bar) @ 70 F (21 C)
Max. fluid temp.: 88 C)
Max. ambient temp.: -10 to 43 C
Accuracy: +/- 10%
No power required
Enclosure: (IP56)
Materials of Construction:
Meter Body: Cast Acrylic
Float: Std range316SS
Float: Low range Teflon
Gasket: Neoprene
Pipe Clamp: 300 series Stainless Steel
Pitot screw: 300 series stainless Steel
Installation Requirements:
This flow meter requires a Minimum Straight Pipe Length Requirement, the meter's accuracy is affected by disturbances such as pumps, elbows, tees, valves, etc., in the flow stream.