Description
Cloverleaf CL2 Professional Range
More items in this range

Cloverleaf CL2 Professional Range
Few manufacturers in the world have put as much effort into designing a flexible and good value range of multi-bay filters suitable for the Koi pond as Cloverleaf, and how refreshing to not only know that they are British but to acknowledge they offer first class technical support to customers/end users.
Key features of this well constructed compact "CL" range are the options of the filters being pump or gravity fed (meaning below ground), whilst being very simple to maintain. The incorporation of vortex bays, and skilful use of mechanical and biological bays using quality mediums encompassing good water flows are further attributes that make the range a superb and sound investment. For very large ponds all filters can be happily installed as pairs - linked to separate pumps or bottom drains. All systems are supplied complete with valves and waste kits, together with a heavy duty lid
As can be seen from the general design concept to both the Cloverleaf "CL" and "Genesis" range, key beneficial features are numerous, starting from the principles of up and down flow through the tanks thereby keeping the water in contact with the mediums for as long as possible.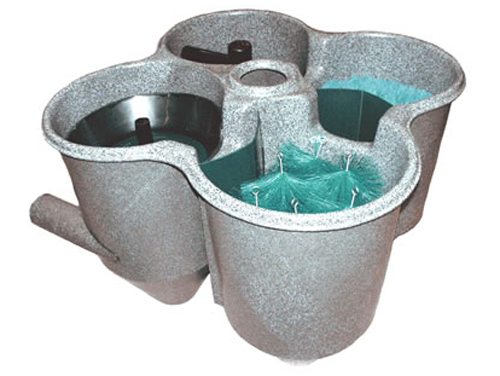 Apart from the advantageous separation and settlement of solids in the vortex bay, the generation of an "upflow" and the incorporation of settlement areas (with drain down valves) ensures that the filtration mediums stay cleaner for longer – thus promoting larger colonies of beneficial bacteria, and by default thereby establishing a healthier pond environment. The thoughtful design layout of the vertical transfer ports also provides the highly useful bonus of being able to incorporate air stones.
Size
990 x 990 x 760mm high.
Suitable for Koi ponds up to 2,500 gallons (11,250 litres), or Goldfish ponds up to 5,000 gallons (22,500 litres).
This 4 Bay unit comprises of a first stage vortex bay, with Bay 2 being fitted with mechanical brushes, Bay 3 acting as a main biological bay with its Japanese Matting, and Bay 4 serving as the secondary and final biological/mechanical stage - incorporating foam and the highly proclaimed aqua rock/alfagrog.
Note:-
Pipe inlet size 110mm (4") - Outlet 82mm (3"). Supplied complete with heavy duty lid, together with waste valves and pipes.