Duratech Dura Plus 10 kw Heat Pump
Duratech Dura+ Plus 10 Heat Pump
Duratech Dura+ Plus 10 Heat Pump
Introducing the New Duratech Dura+ Plus 10 Heat Pump range of high quality, high specification, heat pumps. Duratech Dura+ Plus 10 Heat Pumps can save you up to 80% in operating costs.
We have 9 Duratech Dura+ Plus Heat Pumps running at our facility, please call for more information or why not call in and see them working on our own ponds.
Highly efficient and economical
In today's ever increasing energy costs using a Duratech Dura+ Plus 10 Heat Pump as a koi pond heater is the cheapest and most energy efficient way of koi pond heating and will substantially reduce your running costs.
Duratech Dura+ Plus 10 Heat Pump as koi pond heaters are an environmentally friendly way of heating your koi pond reducing CO2 emissions.



Most heat pumps are designed for summer use and only work down to about +7c. This can be where the confusion can arise. For koi ponds, it is important to use a unit that can operate down to lower temps, which is why the Duratech Dura+ Plus 10 Heat Pump range should be your first choice.
The Duratech Dura+ Plus 10 Heat Pump achieves this by using a more efficient refrigerant gas and construction and has a hot gas defrost mechanism.

The energy is collected from the air outside and transferred to the pool water.
For each kW consumed by the Duratech Dura+ Plus Heat Pumps, 4 to 6 kW are returned to the koi pond. The Duratech Dura+ Plus 10 Heat Pump can pay for itself in just a few years with the operation costs savings alone.
Use
The Duratech Dura+ Plus 10 Heat Pump must be installed outside. It will heat your pond all year if you want and will even work efficiently with outside temperatures as low as -15°C with the Duratech Dura+ Plus Heat Pump range.
The Duratech Dura+ Plus 10 Heat Pumps have an extra feature a cooling mode, which allows the water to be cooled down by the Duratech Dura+ Plus 10 Heat Pump as well.
Environment
Duratech Dura+ Plus 10 Heat Pump are less harmful to the environment because 80% of the energy produced is collected from the outside air and therefore purely natural.
Also the gas used, R410a (DURA+) R407C (DURA), has no harmful effect on the ozone layer. The DURA heat pumps are very energy efficient, our DURA+ range even reach a COP value of 6.
Constructed for durability and longevity
Using advanced and high quality materials like PVC, stainless steel and titanium for the heat exchanger means it is resistant to corrosion through chlorine or salt. The heat exchanger is oversized to improve efficiency.
Easy installation and Advanced control
The unit is intelligently designed and remarkably compact for easy installation. The integrated microprocessor monitors all the sensors and controls the device without any intervention of the user. Electronic display and control with easy operation is standard. The integrated flow switch will sense the water flow and automatically start the heater when the pool pump starts and stops when the pump shuts off.
Running quietly
The use of a highly efficient, low sound rotary or scroll compressor, a low noise fan and an oversized heat exchanger, makes the unit to be extremely quiet in operation. Example: the Duratech DURA+ Plus 10 gives only 51db(A).
Warranty
2 years warranty on parts and labour on all components.
DURA+ 7

DURA+ 10

DURA+14
DURA+ 19
DURA +22T
DURA+30T

Heating capacity (KW)

7
9.8
14.3
19.6
22
30

Heating output (BTU)

23900
33450
48500
75000
66500
102000

Power input (KW)

1.2
1.71
2.46
3.44
3.67
5.00

Max Pond volume (m³/gallons)

22 / 4800
30 / 6800
44 / 9800
62 / 13800
95 / 20900
130 / 28600

Running current (Amps)

5.22
7.43
10.70
14.96
6.10
8.30

Maximum current (Amps)

6.5
9.30
13.40
18.70
7.10
9.50

COP at A25/W25

5.8
5.7
5.8
5.7
6.0
6.0

COP at A15/W25

5.3
5.25
5.3
5.25
5.5
5.5

Power supply (V/Ph/Hz)

220-240/1/50
220-240/1/50
220-240/1/50
220-240/1/50
380/3/50
380/3/50

Controller

Electronic

Condensor

Titanium heat exchanger

Compressor quantity

1
1
1
1
1
1

Compressor type

Rotary
Rotary
Rotary
Scroll
Scroll
Scroll

Refrigerant

R410a
R410a
R410a
R410a
R410a
R410a

Air flow high (m³/h)

2100
2100
2300
3200
4500
4500

Air flow low (m³/h)

1800
1800
2000
2700
3800
3800

Fan quantity

1
1
1
1
1
1

Fan power input (W)

120
120
120
120
215
215

Fan speed (RPM)

850/750
850/750
850/750
850/750
820/680
820/680

Fan direction

horizontal
horizontal
horizontal
horizontal
vertical
vertical

Noise level (dB(A)

50
51
51
54
57
57

Water connection (mm)

50
50
50
50
50
50

Nominal water flow (m³/h)

3.0
3.0
4.5
6.0
14.00
19.00

Maximum pressure loss (kPa)

10
10
10
10
16
17

Nett dimensions (L/B/H mm)

905/420/650
905/420/650
905/420/650
1200/470/850
660/660/960
660/660/960

Shipping dimensions (L/B/H mm)

1030/440/700
1030/440/700
1030/440/700
1240/480/900
700/740/1110
700/740/1110

Net weight/shipping weight (Kg)

55/60
60/65
77/82
117/128
112/122
123/133
How does it work?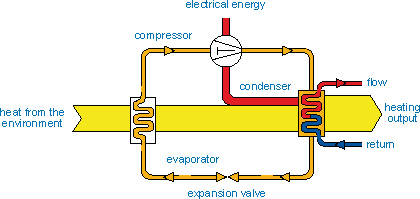 The Duratech Dura Plus Heat Pumps utilise the sun's free heat by collecting and absorbing energy from the outside air. This energy is then transferred to the koi pond water. Your existing koi pond pump circulates the water through the heater and warms the pond. The unit contains a fan that draws in outside air and directs it over the surface of the EVAPORATOR (energy collector).
The liquid refrigerant within the EVAPORATOR coil absorbs the heat from the outside air and the refrigerant becomes a gas. The warm gas passes through the compressor where it is compressed to form a very hot gas, which then passes through the CONDENSOR (water heat exchanger). It is here that the heat exchange occurs as the hot gas gives up the heat to the cooler koi pond water circulating through the coil. The pond water becomes warmer and the hot gas is cooling down as it flows through the CONDENSOR coil, returns to its liquid form and, after passing through the expansion valve, the whole process begins again.
The ideal solution for heating your Koi Pond! * Call for Very best price *
Specification

| | |
| --- | --- |
| Heater Type | Air Source |
We aim to dispatch orders received before midday Monday to Friday on the same day where possible. In most cases our items are available for 1 to 2 day delivery at a competitive price and are trackable via DPD or APC.
Delivery costs for standard items in the UK - £5.95
(Surcharges do apply to remote postcodes)
Heavy items - £9.95
Pipe - £14.95
Palletised items - Some large oversize products, typically items weighing more than 30kg, may require delivery via pallet. Standard Pallet charge is approx. £50.00. To ensure there are no delays with delivery, please include a contact number when placing the order.
Overseas – DHL and UPS, cost based on weight / volume at checkout.
Below is a list of documents that you may find useful.
Can't find what you're looking for? Call 01777 839176 or use our contact form