KoiOzone ozone Generators
The all new KoiOzone range of ozone generators are manufactured to our specifications in the UK. This is the first time that any UK manufacturer has been able to offer a full range of ozone generators which have been specially developed with Koi ponds in mind to cater from the smallest, to the largest system. These are robust and reliable corona discharge units that are easily serviced and maintained and are specifically designed for use in dry ambient air or oxygen, and have very rugged cell designs to resist the effects of moisture ingress. Smaller units feature optional on board air pumps to keep overall system costs down and ensure the correct metered air flow temperature and pressure through the units.
Larger models feature integrated oxygen generators and Redox control to maximise ozone output and increase efficiency, increase cell life and reduce service intervals. All of the units featured below can be fully automated by incorporating Redox monitor/controllers (see below). They represent fantastic value for money in terms of price/performance.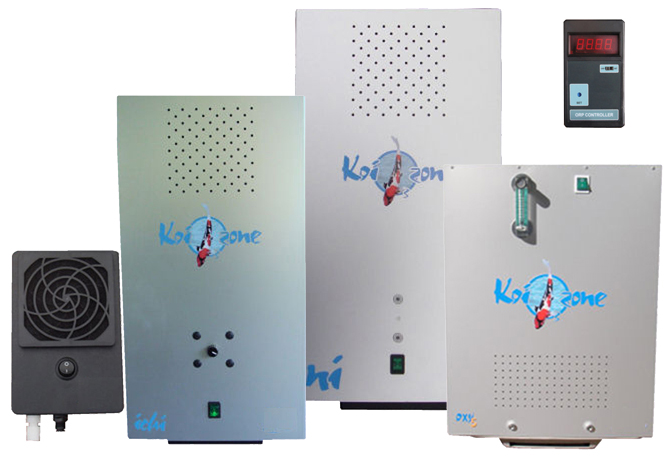 Please note: that the suitability of systems for pond sizes recommended below depends on stocking densities, organic load on the pond as well as other factors, including the Ozone reactor/Protein skimmer chosen. Larger systems are available and built to order.