The Elecro 900 EVO Stainless Steel Aquatic heater has been designed especially for the Fish & Koi market place, suitable for Koi Ponds & Quarantine Tanks. The Elecro 900 EVO offers precise all-season temperature control for professional fish keepers, breeders & hobbyists. All heaters come fitted with 1.5 inch BSP female threaded adapters for ease of connection.
Elecro Koi Pond heaters help the koi keeper to have full control of the pond environment. Higher water temperature over the winter means we are able to feed our Koi for the whole twelve months of the year so they are getting the full nourishment they require to keep them in good condition, furthermore our Koi grow at a faster rate all year.
The Elecro 900 EVO Aquatic heater is manufactured from top quality components and material.

Construction consists of a Stainless Steel flow tube which is fitted with inlet and outlet mouldings manufactured from specially formulated polymer alloy material. The outlet moulding accommodates a reversible flow switch (allowing water input from wither direction) with a gold tipped reed switch and Titanium fulcrum pin. The inlet moulding has been designed to ensure full immersion of the elements, greatly reducing the risks of air locking.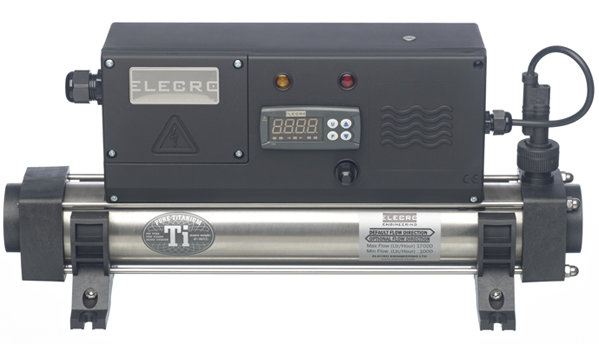 The heater is supported on two swivel feet; these can be rotated to permit either wall or floor mounting. The heater control components are positioned on the front face of the electrical enclosure.

The desired water temperature can be easily selected on the 900 EVO Aquatic heater using the easily programmable digital thermostat. The single or three-phase power is supplied through a top quality Schneider contactor. Safety and equipment protection is provided by the highly reliable flow switch. Over-temperature protection is provided by the thermal cut out (manual reset).

Using the Elecro Koi Pond heaters helps avoid some of the parasite problems that can arise as water temperature fluctuates in the spring. The risk of losing our Koi has been dramatically reduced because we have been able to maintain a temperature acceptable to them.
Because we have been able to continue feeding we still have mature biological filtration, which means we don't have to go through the process of 'Starting Up' our systems at the beginning of each season. The Elecro 900 Evo Stainless Steel Koi Pond heaters have been designed to the highest standards to give long lasting and accurate temperature control for Koi ponds.
These Elecro Evo 900 Pond Heaters offer precise all-season temperature control for professional koi keepers and koi breeders. Elecro Koi Pond Heaters Feature digital control and new ultra-efficient super long life heating element. The Elecro Koi Pond Heater as been Designed for safety and easy installation.
Digital Temperature Control and Display
External Reversible Flow Switch, allows water input from either direction
NEW High Limiting Thermostat
Integral Contactor Relay
Circuit Protection Delay Switching
Stainless Steel 316 Flow Tube

Stainless Steel Heating Element

Controls Temp with 0.5ºC Differential
Min Flow Requirements 1,000 lph
Max Flow Velocity 17,000 lph
The 6 kw and 8 kw heaters are made to order and can not be returned once ordered, unless faulty or needing a service.